By Ibrahim Badees Muhammad – Cricket Australia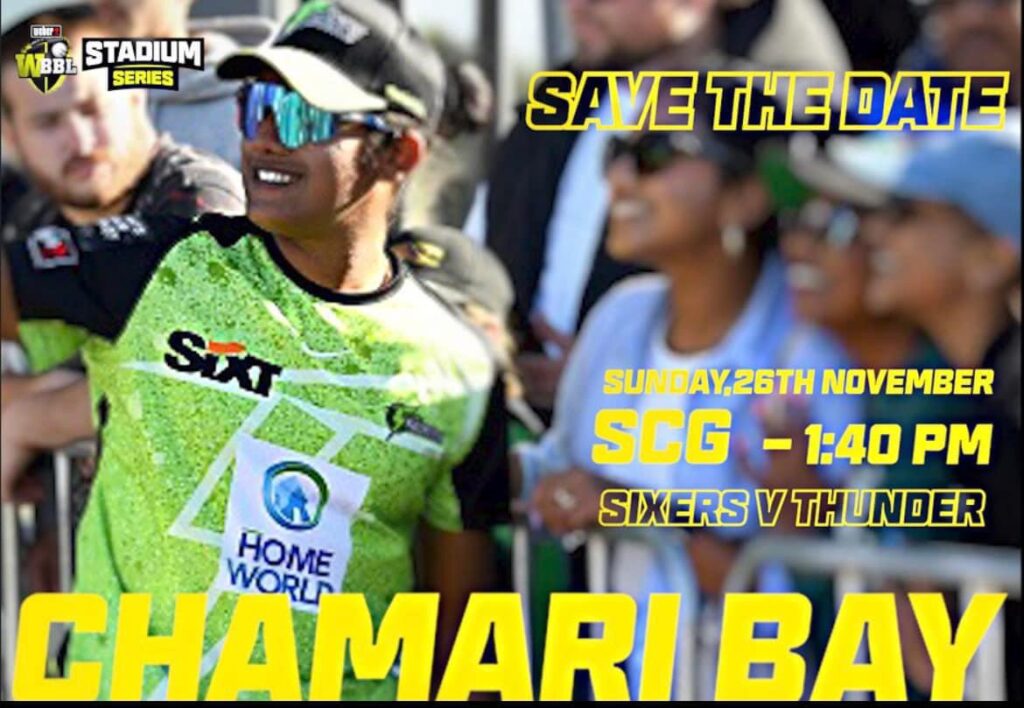 In a groundbreaking move, the Sydney Thunder has announced the introduction of "Chamari Bay," a specially dedicated seating zone at the iconic Sydney Cricket Ground (SCG) for their WBBL Derby clash on November 26.
The decision to name a specific seating zone after Chamari Athapaththu underscores the Sydney Thunder's commitment to fostering a multicultural cricket community and creating unforgettable experiences for Sri Lanka cricket fans. This move is not only a tribute to Chamari's cricketing prowess but also a celebration of the diverse cricketing culture that the Thunder aims to promote.
This initiative is aimed at recognizing the exceptional contributions of Chamari Athapaththu, for Sydney Thunder who has so far emerged as a standout performer in the tournament, amassing an impressive total of 374 runs in just nine matches, with an impressive average of 41.55.
The historic Sydney Cricket Ground, with its rich legacy, will witness the inaugural appearance of Chamari Athapaththu in any match at the venue. As the Thunder gears up for the Sydney Derby against the Sixers, the introduction of "Chamari Bay" adds an extra layer of significance to an already highly anticipated encounter.
Expressing her excitement about the initiative, Chamari Athapaththu said, "I am truly honored and thrilled to have a dedicated seating zone named after me at the Sydney Cricket Ground. It's a special moment for me, and I am looking forward to the match at this iconic venue. I hope 'Chamari Bay' becomes a gathering place for cricket enthusiasts and brings people together to celebrate the spirit of the game."
As the WBBL season 09 continues to unfold, the Sydney Thunder's innovative move sets a precedent for acknowledging and celebrating the diverse talents that enrich the world of women's cricket.