By Sri Lanka Association of NSW Inc.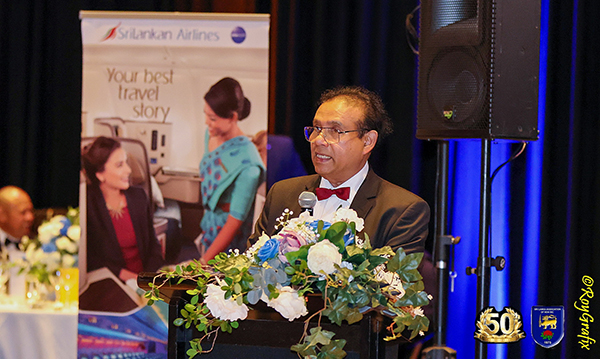 The Sri Lanka Association of NSW Inc celebrated its 50th Anniversary Golden Jubilee Winter Ball on Saturday the 29th of July at the Ballroom of the Sofitel Wentworth Sydney in grand style in the presence of 300 guests, a veritable who's who of the Sri Lankan community in Sydney.
Messages wishing the Association for the occasion, were received from His Excellency the President of Sri Lanka Ranil Wickremasinghe, The Premier of New South Wales, Hon Chris Minns MP and the Federal Minister for Immigration, Citizenship & Multicultural Affairs Hon Andrew Giles MP.
Special Guests who graced the occasion were the Minister for Multicultural affairs, Lands, Property, Business and Sports Hon Stephen Kamper MP representing the Premier of NSW Hon Chris Minns, and Mrs. Chitrangani Wagiswara High Commissioner for Sri Lanka in Australia and her husband Mr. Duleep Wagiswara.
The Event commenced with a minute's silence in memory of the past presidents, committee members and members of the association who had passed away.
A curtain raiser event then followed with a dance from the Sashini Dance Group.
The traditional oil lamp was lit by President of the Sri Lanka Association Mr. Roshan Wickremanayake, Minister Stephen Kamper, High Commissioner Mrs Wagiswara and Mr. Sakura Wijethunga Sales Manager Sri Lankan Airlines in New South Wales. 
President of the Association Roshan welcomed all guests who were present, and he acknowledged the Special Guests. He recalled the numerous functions which were organized throughout the year to celebrate the 50th Jubilee Year and said that the Association has always been for all Sri Lankans irrespective of their ethnicity, religion or social standing within a framework of a United and Democratic Sri Lanka.
He thanked the Committee for all the hard work that was done during the last few months in organizing this dance. He also thanked MC Mr. Senani Gunasekera for accepting to be the MC for the night.  His speech was followed by speeches from the Hon Minister Mr. Kamper and the High Commissioner Mrs. Wagiswara who both wished the Association well for the future.
To celebrate the Golden Jubilee, the President and the Committee cut a specially made cake. Each guest received an elegantly boxed celebratory cupcake as a gift.
The guests old and young were on the dance floor after the formalities were over, dancing to the music of The Kamis  who played some fabulous songs specially curated for the Sri Lankan taste. The event ended with all the guests dancing to the rhythmic beat of Sri Lankan baila.
Roy Gunaratne of RoyGrafix captured the celebration in style !!!
SLA 50th Golden Jubilee Winter Ball 2023