NSW PARLIAMENT & THE WALKLEY FOUNDATION JOINT MEDIA RELEASE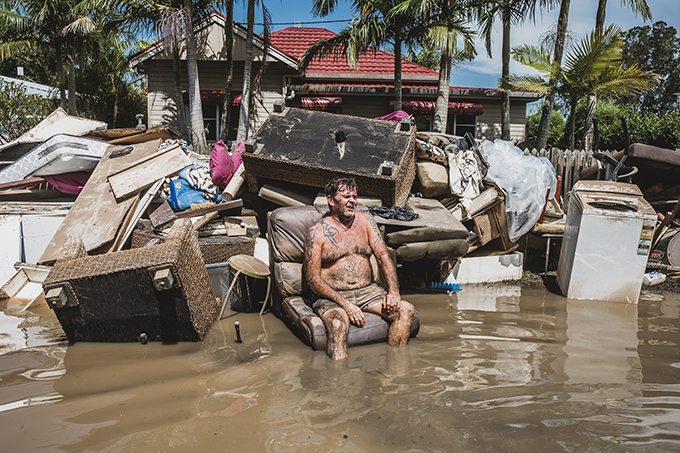 Capturing incredible stories of triumph, tragedy and everyday life, the works of Australia's best photographers – as recognised by the Walkley Awards for Excellence in Photojournalism – are on display now at NSW Parliament House.
The free exhibition is open to the public in the Parliament's Fountain Court on weekdays from 9am to 5pm, until 16 December. It features the works of finalists across the 2022 Awards categories, spanning news and sport photography to portraiture and photographic essays.
Walkley Foundation CEO, Shona Martyn, said visitors would be able to see the winner of this year's Nikon Photo of the Year and Nikon Portrait Prize on full display. "They're two incredibly powerful images. 'Peter Takes A Moment', showing a man taking a break amid floodwaters and piles of debris in NSW's Northern Rivers, sadly sums up 2022 for so many Australians. And our Portrait Prize winner is a beautiful shot of a Kuranjini man on Country with his dogs – but Johnny and other Traditional Owners in this beautiful landscape in the Northern Territory's Beetaloo Basin are battling fracking for natural gas by large energy companies on their traditional lands," Ms Martyn said.
"As well as images from the year in news around Australia, of course Ukraine and Afghanistan are represented. The winners of our other photojournalism categories will be announced on November 17, so visitors can see who's in the running and form their own guesses as they explore the exhibition."
President of the NSW Legislative Council Matthew Mason-Cox said visitors would be wowed by the collection of images on display, which have been selected from thousands of entries.
"The Walkley Awards represent the best of the best in Australian photojournalism," Mr Mason-Cox said. "The images we have on display tell incredibly powerful stories – from the joyful to the sombre – while showcasing the technical prowess of our country's top photographers."
The Speaker of the NSW Legislative Assembly, Jonathan O'Dea, added that the exhibition was a compelling reflection on the year in news.
"Each magnificent photograph is a window into a newsworthy event or moment from 2022, from here in our backyard to the far corners of the world. Don't miss the chance to come see for yourself."
After its run at NSW Parliament House, the press photography exhibition will be touring other venues across the country in 2023. Find more information at www.walkleys.com.
Visitors are advised that this exhibition includes graphic images that may be confronting. Viewer discretion is advised.
Visitor information: Visit Parliament House at 6 Macquarie Street, Sydney on weekdays from 9am to 5pm. Entry is via the gatehouse to the left of the building, and the Fountain Court exhibition space is just beyond the reception desks. Please note, from late November construction activity at the front of Parliament House may alter the building entry point – our friendly team members will be able to assist with information when you arrive. More: www.parliament.nsw.gov.au/visit/pages/planning-a-visit.aspx.
— ENDS —