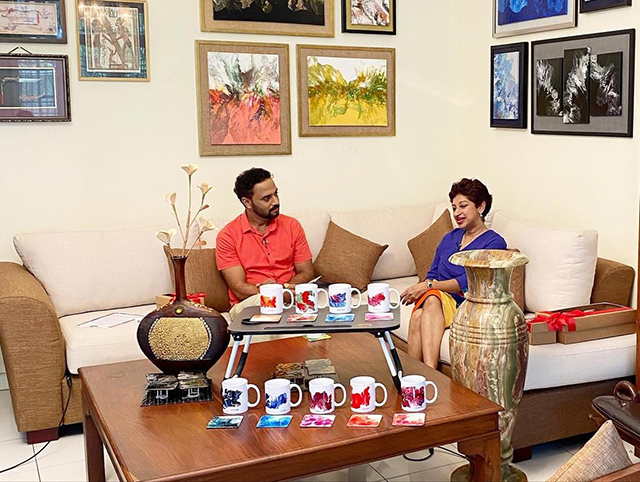 'VyVarna'  is Chamani Pathirage's new baby. This working mother of two boys, hates being at a loose end. She needed a new project during lockdown. What started off as a hobby, dabbling in fluid art, has now spun off into a business venture. Chamani now markets mugs, coasters, jewellery and paintings to the Sri Lankan and selected overseas markets decorated with her fluid art designs.
 'VyVarna' is all about colours! In the local vernacular in Sri Lanka, 'vyvarna' means multi-colour or many colours. It's a fusion of colours that literally creates a fluid, moving art work.
Chamani says, "Inspiration hit me like a tidal wave when my elder son started redecorating his room. He bought himself two abstract paintings to match his feature wall. I was fascinated by these two pieces of art every time I sat in his room. The lovely earthy tones, the soft curves the seamless continuity gave a sense that the colours were gracefully moving along and with each other! The blending of colours made it seem to come alive every time I looked at it.
Working from home during the Covid-19 pandemic lockdown period gave me 'guilt free' time to browse through my favourite Pinterest site. Whilst scrolling through the interesting sites, I accidently stumbled on a Fluid Art site. From that moment onwards, I was hooked – heart, body and soul! My passion for flirting with colours and my inherent love for art drove me into digging further into this amazing form of abstract art. The fear of painting the wrong proportions of a figure or an object did not matter to me since abstract art, especially fluid art literally gives one a colourful form of 'freedom of expression'.
After scrutinizing almost all the 'fluid art' sites on the internet, YouTube and Pinterest, I thought I would try out this new form of art. I checked out a few art suppliers on line and discovered one that was open on a Saturday afternoon. Before my motivation fizzled out, I called my younger son to accompany me to the art shop located a few kilometers away from my residence. At first sight, I fell in love with the quaint little shop called 'Artworld' ! It was stacked with all kinds of interesting things relating to arts and crafts. The owner, Mr. Imran was extremely helpful in selecting canvasses, acrylic paints, little mixing containers etc for my first attempt at fluid art. He boosted my confidence and advised to me to keep my very first painting in order to compare it with my own progress in time to come. 'Every painting is a masterpiece because no one else can do the same' was Imran's classic words of wisdom that keep ringing in my ears every time I try something new!
As you can imagine, my first attempt was a right royal disaster! I am sure a three-year-old would have done better! However, the wise words of Imran kept my spirits high. Canvass after canvass tempted me to experiment with different methods of fluid art which I had started studying late into the night almost on a daily basis. I viewed many videos, listened to various opinions of fluid paint artists especially on what went right and what went wrong in their journey to the top. I bought my first hair dryer for this lockdown hobby of mine. From various acrylic paints, house paints, mediums and varnishes to making my own wooden frames for canvasses, ordering rolls of stretched canvass, learning how to make the canvass for painting purposes (especially doing a neat corner) took time to perfect. Now I can confidently say that I can make canvasses to suit the customer's requirement. All this would not have been possible without the patience and encouragement from my husband Rohan and my sons Bhagya & Jivanka. My younger son Jivanka has become my business partner too.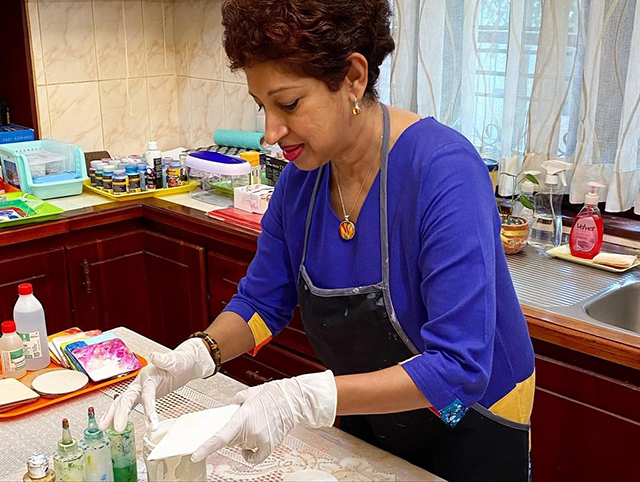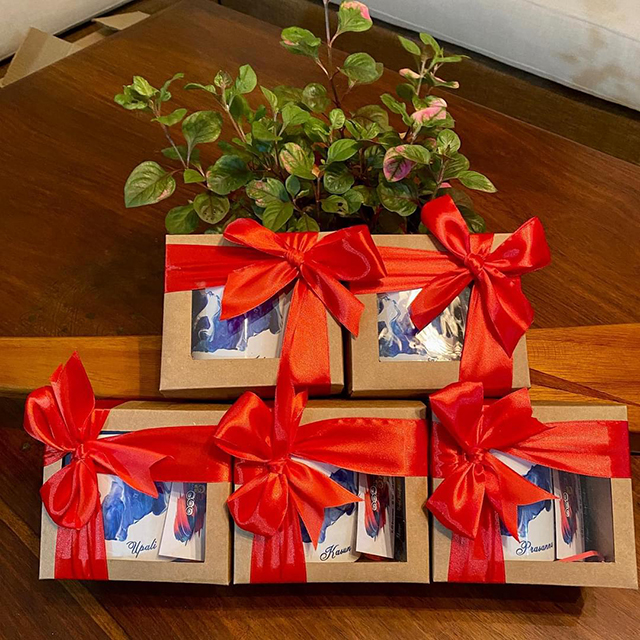 Gradually I learned and I am still learning how to create wonderful 'masterpieces'. My love for colours pushed me to confidently try out variations on different backgrounds. I have added value to my paintings by finishing them with a matching mount and suitable frame.
My passion for fashion naturally gravitated me towards making unique pieces of fashion jewellery with the 'skins' of the fluid art designs made from acrylic paint. Since I create the acrylic skins, I am able to customize them based on any colour palette requested by customers. I love making little pendants and matching earrings with stainless steel bezel trays topped with glass cabochons. The necklaces for the pendants are waxed cotton cords with a crab claw clasp or a dainty stainless steel chain. My line of VyVarna Fashion Jewellery extends to Wooden hand painted earrings and pendants too. The pendants have a waxed cotton cord with a crab claw clasp. The wooden Jewellery line has a bohemian touch which is ideal for casual wear. All these items are imported through individual venders via one of Sri Lanka's largest online shopping malls, DARAZ.
Experimenting with wooden jewellery gave me confidence to try my hand at fluid art on wooden coasters. This is really fun! However, although the coasters are 4'' x 4'', the entire process takes almost 6 – 7 days. The coasters are finished off with a coat of resin in order to add a touch of glamour, make the colours pop and most importantly, to ensure it is heat resistant and practical for everyday use. The base is covered with a slim cork sheet to protect the surface it is used on. Further, this gives the product a professional, handmade look!
Taking fluid art to the next level, I wanted to create a range of colourful mugs. Since I was not able to find any tutorials on this subject, I spoke to various mug suppliers and learned that printing an artwork can be done on a special type of mug known as 'sublimation' mugs. Once I created a few artworks on strips of canvases from a canvas pad, I took them to a couple of sublimation printing companies to experiment the art on sublimation mugs using a special heating process. After a few trials, it worked! Now I have 10 different designs which can be personalized too. I have named this product line 'Mugs of Happiness'. I feel that colours add a positive aura, especially since one tends to relax when sipping a cup of tea / coffee / hot chocolate! Each colour has been amply named to depict a 'feeling'. Personalized mugs are in great demand as a gift item for weddings, birthdays and other special occasions.
Many friends have advised me how I should transform my hobby into a business venture. I started by officially registering my brand as a business venture in order to gain customer confidence. Slowly but steadily, I keep adding value to my products by incorporating gift boxes, improving packaging and using digital platforms to market Vyvarna. This part is handled by my younger son and business partner Jivanka who is a young mechanical engineer. VyVarna is on Instagram and Facebook. The products are showcased under Home Décor (paintings, coasters and mugs) while Hand Painted Fashion Jewellery fall under the Fashion Jewellery segment.
Since VyVarna is at its infant stages, sales are not high. At the moment, most of my customers are cousins and friends. The highest moving products are the personalized mugs, coasters and fashion jewellery".
Email:info.vyvarna@gmail.com