Angie Singam chats with the author….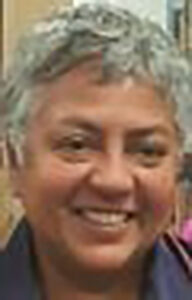 Free tickets for the book launch are available on Eventbrite.com.au
Samantha Sirimanne Hyde will launch her debut novel 'The Lyrebird's Cry' at the West Ryde Community Centre, Sydney on 30 September 2022.
Samantha was born in Colombo, Sri Lanka and now lives in Sydney, Australia. She has an MA in Creative Writing from Macquarie University and has co-authored a book of poetry (Paper Boats) and authored a collection of short stories (The Villawood Express & other stories). Sirimanne Hyde's haiku, tanka and other Japanese genre poetic forms have appeared in Australian and overseas publications.
The Lyrebird's Cry starts with the stark words; "We have found a good girl for you". What seems like a simple truth from a Jane Austen novel, has the potency of a Molotov cocktail thrown into a crowded room with locked doors!
It draws the reader into a universe of pain and chaos. Jagath, the main protagonist returns home to Sri Lanka from Sydney on holiday, only to have his emotions and passport held hostage by his parents. He can't return to Australia, at least not until he marries the woman of their dreams. There's just one niggling thing getting in the way of their plans – Jagath is gay – a fact his parents don't want to accept or acknowledge.
The story follows the unravelling of Jagath's life until he is forced to confront his demons and come to terms with his identity….and if you are wondering about the title 'The Lyrebird's Cry – the Lyrebird is an Australian ground bird known for its impressive ability 'to mimic natural and artificial sounds from their environment, and the striking beauty of the male bird's huge tail when it is fanned out in courtship display'. 
The song of the lyrebird is a mixture of its own song and mimicry of other species. The metaphor perfectly captures Jagath's personality and his futile but desperate desire to conform to his environment, whether it is home in Sri Lanka or home in Australia. This motif sets the tone for the entire novel and reflects the beauty of Sirimanne Hyde's writing skills. There is precision and there is spontaneity and an authentic depiction of middle-class Sri Lankan family life both in the rituals and expectations of the Rajasinghe family (Jagath's family).
Jagath is a flawed hero, perhaps even an anti-hero, which demands our attention. There isn't an iota of conventional wisdom or predictability in the plot. Choose to love or hate Jagath, the story highlights how our cultural and emotional baggage can weigh us down and force us to conform against all odds.
The universal battles between love and hate, good and evil, duty and desire are played out with stark dialogue, relationship rifts and characterisation in the book. Sirimanne Hyde is at her best, laying bare social taboos and cultural divides and breaking down emotional sea walls to get to the inner truth.
I sat down with Samantha Sirimanne Hyde ahead of her book launch to find out about the new book and what makes her tick as a writer.
Sirimanne Hyde confesses she has always had a left-field imagination but mainstream authors and poets who inspired her writing were James Thurber, especially his character Walter Mitty and T.S. Eliot's, Prufrock. Sri Lankan Canadian novelist Shyam Selvadurai is someone whose work she particularly loves. "His 'Funny Boy' triggered something in me and perhaps it was the catalyst for me to start thinking of my protagonist Jagath and his own story of self-discovery", she says.
A review of the book by Bhikku Akaliko captures the essence of the story well  – 'The Lyrebird's Cry is a sensitive portrayal of a family coming to terms with difficult truths that test their understanding of the world…Sirimanne Hyde offers the  reader touching insights into the hearts of those who suffer from oppression…'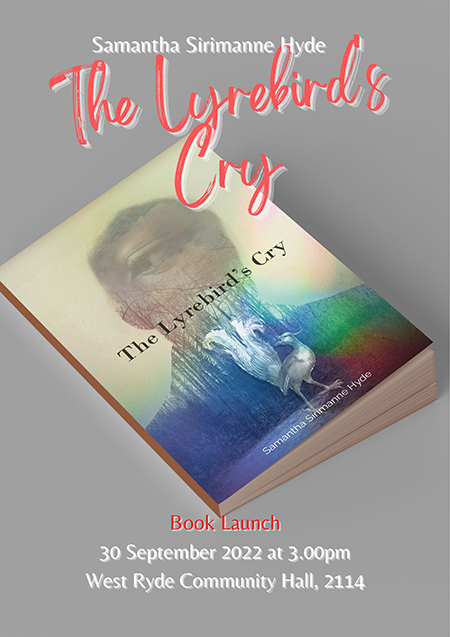 Interview
Question:  You have a long and rich history of creative writing. Tell me about your journey that culminated in this book.
Answer: I started off as a fledgling poet dabbling in free verse, exploring youthful angst! Studying creative writing post migration, I diverted my focus to short stories. Then later, I discovered the joy of haiku, tanka and other Japanese genre poetic forms which  continue to this day though now more as a reader.
The Lyrebird's Cry has been a labour of love for sure. I guess the work I undertook especially in the compliance areas of the Department of Immigration and my love of cooking have also been woven into this story. I also love exploring indecision…what makes one decide one way or the other? Who or what's pulling our strings? Why do we allow that? Why can't one stand up for oneself and for others?
Question: How did the idea for the book germinate? What was your trigger to write this story?
Answer: Well, it was inspired by a true story which happened to a close friend I knew when we were young adults. The delusion in those parents' minds to want to pressurise their gay son into an arranged marriage has stayed with me all these years.
So…I'd written a prologue and three chapters more than 15 years ago! Then, I left my job in the public service to operate a run down budget motel in country NSW for five years. I was really not in a good headspace to do any writing. Afterwards, I was depressed just looking at those early chapters, unable to see any way forward. Then about five years ago, a friend encouraged me to attend an eight week writing boot camp run by author, film producer and director, Nick Bleszynski. His excellent mentoring just opened my eyes to new possibilities for the story".
Question: Jagath is shackled – he is torn between the need to conform to please his parents and the desire to be true to himself…Jagath has so many internal struggles because of the family dynamics and the emotional baggage he is carrying. Would you care to elaborate?
Answer: Some Asian parents bring up their kids with a yellow streak, so to speak. They take that whole "show respect to your elders" business to another dimension, racking them with guilt and fear to conform to their beliefs. Heterosexuality is their only truth. No other narratives exist.
Question: What were the main themes you wanted to draw out in the book?
Answer: The story delves into issues of gender, love, marriage, sexuality, identity and migration. It also focuses on exploring the main character's self-acceptance issues and the differences in the cultural perception of personal freedom in Sri Lanka and Australia.
Question: You drew on Buddhism and the Dhammapada as a philosophic leitmotif through the book and it provides the basis for Jagath's soul searching. Why?
Homophobia is still widespread in Sri Lanka despite it being a predominantly Buddhist country, which is starkly in conflict with its philosophy of unconditional loving kindness and tolerance towards all beings. My book explores the stifling conformity that is the cost of acceptance prevalent within some Asian families.
I wanted to start each chapter with a Dhammapada relevant to that section. I needed to show that Buddhism does not discriminate anyone whatever their sexuality. It's a beautiful and totally inclusive philosophy. It is up to us to change our narrow views and tinker at our traditional brain fog.
My protagonist, Jagath also connects with a Buddhist monk in a forest monastery who'd motivate him to gradually understand that his happiness lies mainly in his own hands.
Question: Who's the target audience the book is pitched at? What would you like to provoke in the reader as a response to the book?
Answer: I'd like to believe that my story has elements of universal appeal and some entertainment value. Deep inside, I'd love it if the book makes a difference to someone (ha ha, a bit of hubris there, Sam!) struggling with their sexuality or someone hanging onto old-fashioned cultural norms. The ultimate bonus for me would be if the book encourages some dialogue and fosters inclusivity.
Question:  Any tips about writing for young, aspiring writers?
Answer: Keep reading good books in the genre of your choice. Invest in a writing course which will give you focus and deadlines. Let your story percolate for as long as it takes to take shape…but please don't let it stagnate for too long like me!!! Hang on to good people who have your back, who'll share difficult truths about your writing (which YOU thought was perfect!). Do give mainstream publishers a go but be open to going down your own independent path. Remember to engage professional editors.
Question:  Getting a book published is a Holy Grail. How did you tackle it?
Answer: With difficulty! There was some great feedback from a Big-5 publisher initially but then nothing! I tried several mainstream publishers but my submissions didn't even warrant acknowledgment or rejection. Just silence. I find it a pity that Aussie publishers aren't open to more diverse voices. After all, it is a country of migrants and we all bring  colourful tales to the table. We have a mature and vibrant readership here who I'm sure can handle migrant narratives.
Anyway, here I am – an indie author!
The Lyrebird's Cry is available for sale as a paperback on amazon.com.au and at Better Read Than Dead Bookshop at King Street, Newtown (website: www.betterread.com.au)
Get in touch with the author at: TheLyrebirdsCry@gmail.com