The Sinhalese Cultural Centre is currently in the process of acquiring a property in Seven Hills to establish the Sinhalese Cultural Centre. The details are are as follows.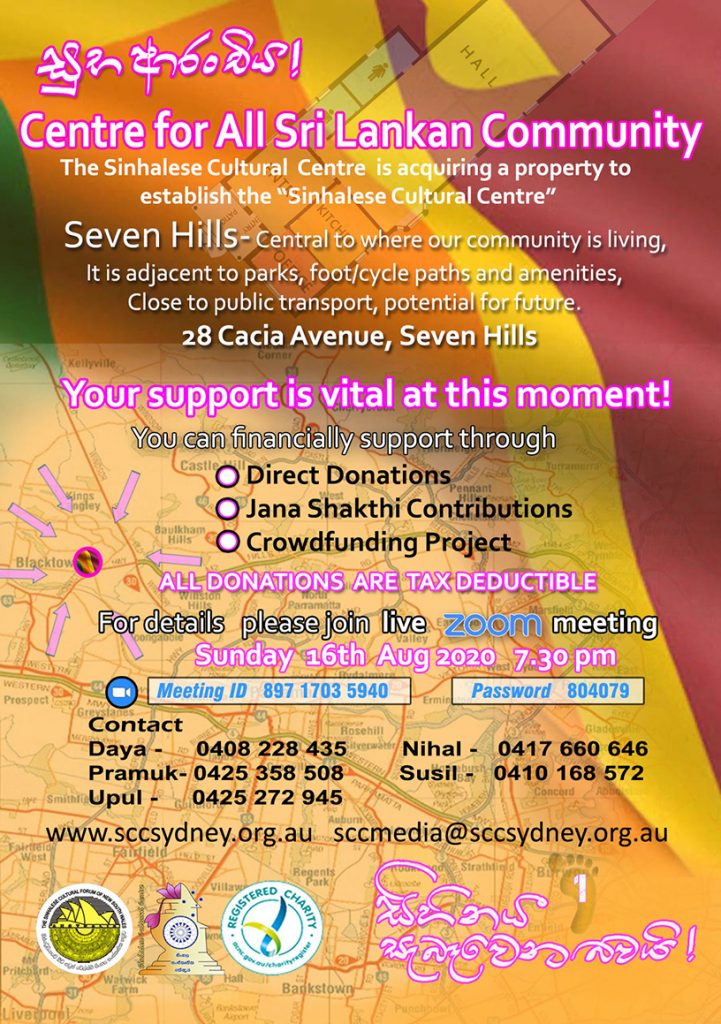 Message from the Sinhalese Cultural Centre Team …..
This is a great news for our Sinhalese/Sri Lankan community in Sydney, NSW as it forms a Community Hub bringing many benefits to our generations and many future generations to come.
The Sinhalese Cultural Centre currently has $130K+ cash reserves to be used for this acquisition. However, we have a funding deficit of around $60K.
We all know that the community supported us to come this far by supporting our fundraising activities and donations including JanaShakthi Contributions and General Donations.
For JanaShakthi Contributions, please refer to the information provided in the Sinhalese Cultural Centre website (Click Here).
General Donations can be made through Ozlanaka Community Crowdfunding Campaign. Please click here to make a General Donation.
Please note that all the donations to our Public Fund are Tax Deductible.

Your support for the Sinhalese Cultural Centre is greatly appreciated.
Sinhalese Cultural Centre Team
Contact: Nihal – 0417 660646, Daya – 0408 228435, Pramuk – 0425 358508, Upul – 0425 272 945, Susil – 0410 168572