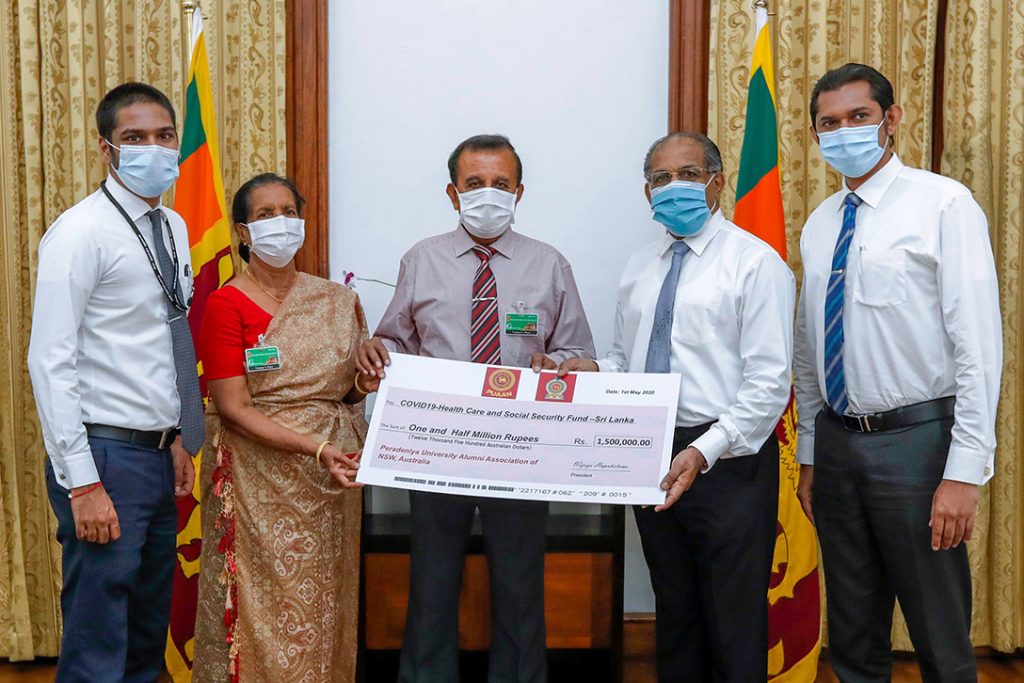 by Peradeniya University Alumni Association of NSW (PUAAN)
Peradeniya University Alumni Association of New South Wales (PUAAN), donated $12,500 (Rs.1.5 million) to the COVID-19 Healthcare & Social Security Fund in Sri Lanka on Monday 11th May 2020. The founder President of PUAAN Janaka Seneviratne and his wife Pearl Seneviratne made the presentation on behalf of PUAAN to Major General (Rtd) K.B. Egodawele, Director General of the fund in the presence of Mr. Sugeeshwara Bandara, private secretary to the President Gotabaya Rajapaksa (extreme right).
Funds were raised following a request by Sri Lankan Consul General in Sydney, Mr Nimal Bandara and led by president Mr Wijaya Hapukotuwa, ex- president Mr Sathyawadi Rajapakse, Treasurer Dr Rohana Ediriweera and the executive committee. The effort was well received by the members of PUAAN and made their generous donations to support the COVID-19 battle in Sri Lanka. It was interesting to note that some of the children of the alumni also made several generous contributions displaying their gratitude towards Sri Lankan people who funded their parent's free education enabling them to enjoy their good life here in Australia.
With organisations, corporate and individual donations, the COVID–19 Healthcare and Social Security Fund set up by President Gotabaya Rajapaksa has now surpassed Rs. 1 billion, the President's Media Division said.
All the donations will be credited to the special account opened under the number 85737373 at the Corporate Branch of the Bank of Ceylon. Local as well as foreign donors have made their contributions to the Fund. Donations to COVID–19 Healthcare and Social Security Fund have been exempted from taxes and foreign exchange regulations. Deposits can be made through cheques or telegraphic transfers.
Further details can be obtained from Mr. K.B. Egodawele, Director General (Administration) of the Presidential Secretariat through the telephone number 011 – 2354479 / 011 – 2354354.
Photograph: President's Media Division.