CSA General Meeting with Speaker "Dr Raja C Bandaranayake" followed by mini Social
May 28 @ 6:30 pm

-

9:00 pm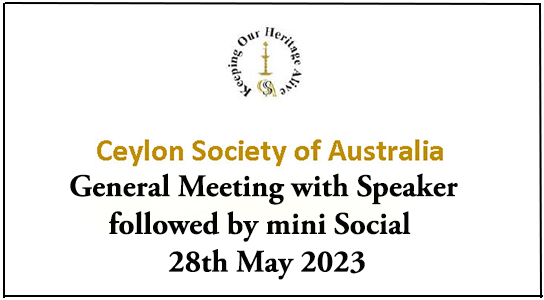 Ceylon Society of Australia 
Members and Guests are warmly welcome to attend  the next General Meeting of the Ceylon Society of Australia, and details are as follows.
Sunday 28th May 2023 at 6.30-8.30 pm at the Main Hall of the Pennant Hills Community Centre on Level 1, Ramsay Road, Pennant Hills, NSW 2120.  Ramsay Road is off Yarrara Road and the Community Centre is opposite the Pennant Hills Railway Station. The entrance is from the car park at the rear of the building.
After a Q&A session following the talk, the meeting will conclude with the usual social. Some short-eats and tea/coffee/soft drinks will be served to all attendees. A donation to the CSA to help defray costs would be much appreciated.
Speaker
Dr Raja C Bandaranayake, MBBS, PhD, MSED, FRACS will talk on the topic of 'Charles Dickens on Ceylon'.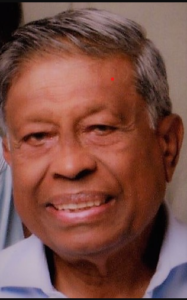 Synopsis of Talk
As an avid collector of books on Sri Lanka, or Ceylon as in British colonial times, I came across a book entitled Sunshine on Daily Paths (or the Revelation of Beauty and Wonder in Common Things). This book was a compilation of writings on various topics published under Dickens' name in Philadelphia in 1854. I was amazed that its first chapter was on pearl fishing in Ceylon, entitled 'My Pearl Fishing Expedition'. This aroused my interest and to my amazement, six of its forty-five chapters were on different aspects of life in Ceylon, all written in the first person.
Being quite naïve at the time about Dickens except for the fact that he wrote many books, including the well known A Tale of Two Cities, read as a high school student, I asked myself the question: Did Dickens really visit Ceylon? If he did, why is there no record of the visit of such a famous person in our 19th century history? Could he have visited Ceylon incognito? If he did not visit, how did he write so accurately, and in such detail, about the places he either visited or pretended to have visited? Or did others write articles in his name?
On further investigation, I gathered much information from Dickens' biography, The Life of Charles Dickens, written by his close friend, John Forster, and published shortly after his death. 
In this presentation I will detail my findings. A summary of Dickens' life will be followed by a listing of the writings on Ceylon under his name. I will then examine closely his biography to determine any evidence of a visit to Ceylon, and who, if any, were associated with him in writing these articles, with details of each of the latter pertaining to Ceylon. The presentation will conclude with a reference to his death and unfinished novel, The Mystery of Edwin Drood, and the particular significance this novel has to Ceylon.
Biodata of Speaker
Raja Bandaranayake graduated in Medicine from the University of Ceylon, obtained a PhD from the University of London Guy's Hospital Medical School, and a Master's degree in Education from the University of Southern California. He was elected a Fellow of the Royal Australasian College of Surgeons in 1991 in recognition of his services to the College over several years as Chairman of the Anatomy and Examinations Committees, and Deputy Chairman of the Board of Examiners. He was Technical Adviser to the Australian Medical Council Examinations Committee for foreign medical graduates.
Raja was Associate Professor and Academic Director in the School of Medical Education at the University of New South Wales. He retired from the University in 1996 to take up the position of Professor of Anatomy in the College of Medicine of the Arabian Gulf University in Bahrain. On retirement from full-time academic duties in 2003, he continued to undertake international consultancies in Medical Education.
His consultant assignments have been undertaken for international bodies such as the World Health Organization, World Bank and World Federation for Medical Education and Health, and educational institutions in various countries. He was a member of the Task Force of the World Federation for Medical Education to determine international standards in medical education, and on the Core Committee of the Institute for International Medical Education (China Medical Board of New York) to identify global minimal essential requirements in Medical Education. In recognition of his services to medical education in developing countries, he was awarded the Fred Katz Memorial Medal by the Australasian and New Zealand Association for Medical Education in 1991, where he served as President.
He has an interest in the history of colonial Ceylon, as Sri Lanka was then called by the British, and is a keen collector of books on the subject.
Details
Date:

May 28

Time:

6:30 pm - 9:00 pm

Event Categories:
Organiser
Phone:

0419 447 665

Email:

paulineg@ozemail.com.au
Venue
Yarra Road




Pennant Hills

,

NSW

2120

Australia

+ Google Map
Related Events
October 14 @ 6:30 pm

-

11:00 pm

November 25 @ 6:30 pm

-

11:00 pm