By Nicola Pitt, Communications Officer, Outback Stores


Originally from Sri Lanka, Hemantha and Manjula have now seen more of Australia than most Australians, thanks to the work they've done with Outback Stores since 2016.
With Hemantha's tertiary education in hospitality management and Manjula's retail experience, they found they had a perfect combination of skills to work as remote store managers.
They first started as casual employees at Timber Creek (NT) and Warmun Roadhouse (WA) before being offered permanent positions as Takeaway Managers at the new store at Balgo, a community of around 300 people belonging to the Kukatja tribe, on the edge of the Great Sandy Desert in Western Australia.
"We got to know most of the families, experienced lots of cultural events and the elders taught us a lot," says Hemantha.
As occasional relief managers during their time at Balgo they had the chance to also visit Beagle Bay, One Arm Point and Ringer Soak. On their weekends and holidays they enjoyed camping in their roof tent and visited many beautiful areas throughout remote Western Australia, like Mitchell Falls, Shark Bay and the Gibb River Road.
"We made a lot of friends in Balgo and cried saying goodbye to them after three years" explains Manjula, who was touched to learn that a baby girl in the community had been named after her.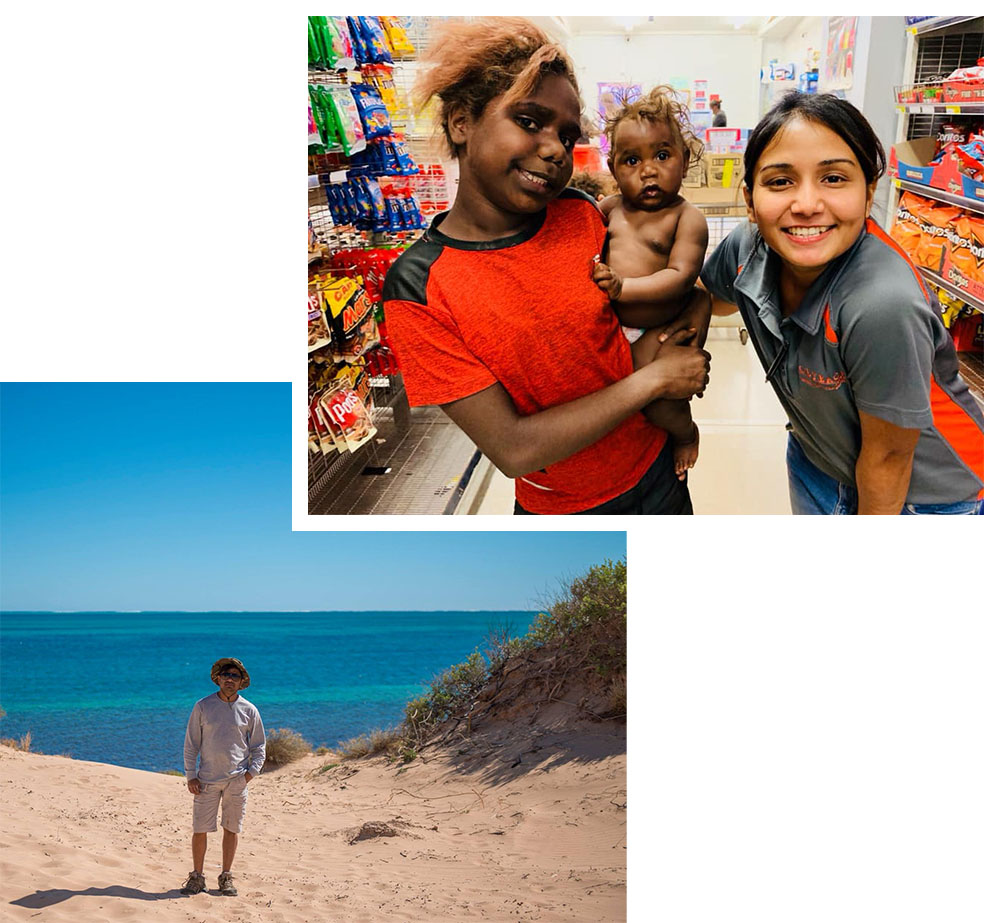 We got to know most of the families, experienced lots of cultural events and the elders taught us a lot. 
– Hemantha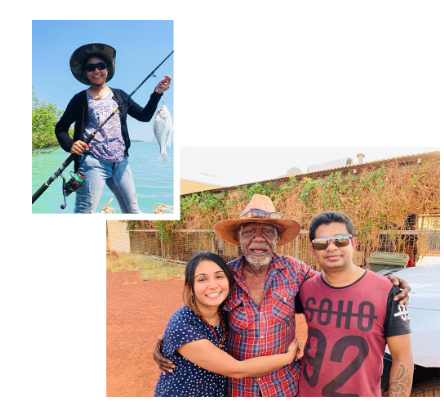 Next they went to the Top End to work in Ngukurr, a community in southern Arnhem Land on the banks of the Roper River where the main language spoken is Kriol. Once the community learned that Hemantha and Manjula intended to stay for a while, they were warmly welcomed and shown the surrounding country and fishing spots. They developed good connections with the community and its leaders. And when the time came to leave were farewelled with a traditional ceremonial dance.
The couple believe that the key to developing good relationships in remote communities is in trying not to make comparisons with city stores, while also trying their best to understand the lifestyle and culture of the community. "I have learned a lot about patience, and about asking how and why before making any judgements," says Hemantha.
Manjula agrees that to succeed in this job it is important to be patient and accept that any change to how the store is run will be a gradual process taking around 3-4 months at least. She enjoys the slower pace of a small community, and that everyone greets her by name. The couple don't think they'll ever be able to return to the traffic jams and crowds of a big city.
They are now working in Maningrida, located 500km east of Darwin where the Liverpool River meets the Arafura Sea. Last year they upgraded their roof tent for a camper-trailer and are looking forward to exploring Kakadu National Park on their next holidays.
"I grew up in a city, so I didn't know anything about camping or fishing before we came to Australia" Manjula laughs. Whereas Hemantha grew up visiting his family's rice farm, and so had always enjoyed an outdoor lifestyle.
When you go to the store each day, it's always an adventure. 
– Manjula
The couple make the most of their seven weeks' annual leave, dividing the time between visiting family in Sri Lanka each year and travelling around Australia. Next year will be a little different, as Hemantha is planning to realise a long-held dream of his to visit Antarctica. The couple are determined to travel as much as they can while they are still young and fit.
"Why waste our entire lives working, only to travel when we're retired?" says Hemantha. He believes the best part about being a remote store manager at Outback Stores is the chance to see so much of the country, as well as the opportunity to save money, with no rent or utility bills to pay.
The couple bought their first investment property in 2020 and are saving up for their second. Their plan is eventually to build a house in Queensland, where the climate and tropical landscape reminds them of Sri Lanka. Hemantha is looking forward to being semi-retired by the age of 45-years-old, but Manjula confesses that she loves working as a store manager too much to retire.
"My whole childhood was spent in my father's grocery store, and so I'm living in my childhood. I really enjoy it. It's something in my blood! I want to be working in a store my whole life," she says.
The couple say they really appreciate the opportunities that come with being a remote store manager and enjoy the fact that no two days are ever the same.
"When you go to the store each day it's always an adventure," says Manjula.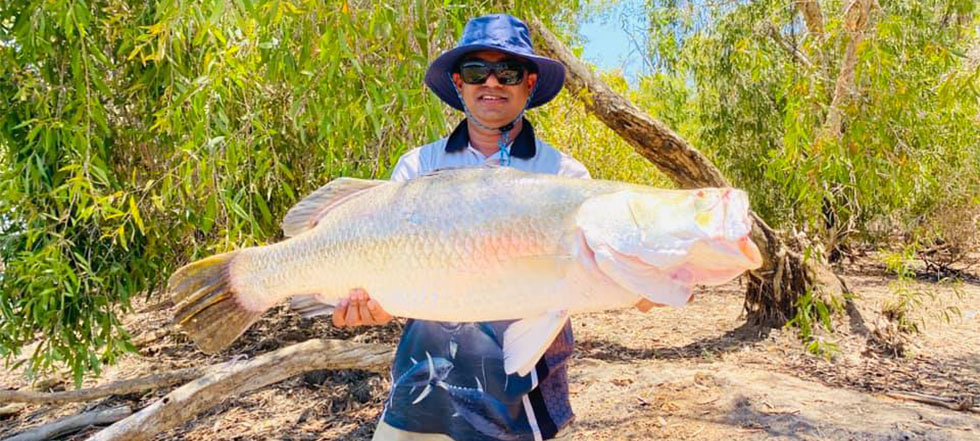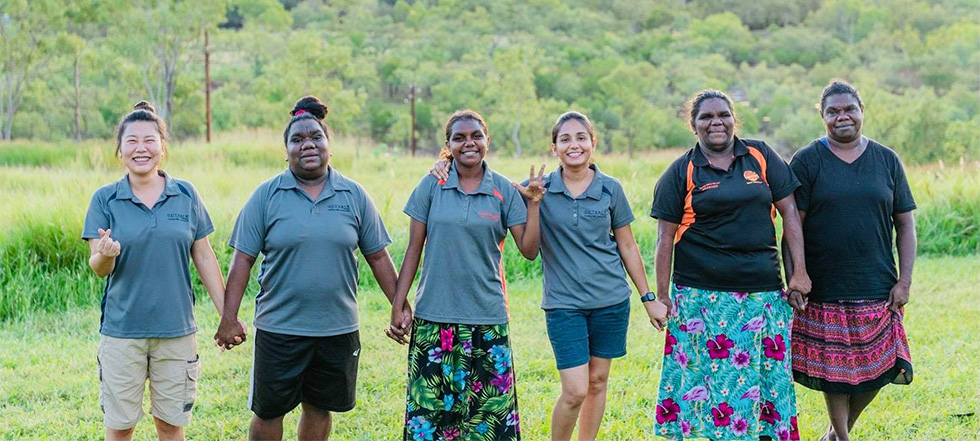 Outback Stores acknowledges the traditional custodians across the lands on which we live and work, we pay our respects
to elders both past and present.